---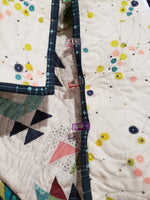 Machine Quilt Binding
Cross & Crown Longarm Quilting
Want to get your quilt back completely finished? I will bind your quilt for you!
This is for machine sewn binding on both sides.
This binding is extra sturdy and won't come out like a hand-sewn binding sometimes can.
You buy from us or send us the binding fabric and we will cut it and prepare it. Or we can use the excess backing cut from your quilt backing fabric.
You get back a quilt that is ready for immediate use or giving! 

To calculate the price, just measure each side of your quilt in inches and add the four numbers together. This is the perimeter of the quilt in linear inches!

Throw (200 linear inches or less)- $15
Twin (201 - 250 linear inches) - $25
Full (251 - 300 linear inches or less) - $35
Queen ( 301 - 350 linear inches or less) - $45
King (351 linear inches or more) - $55

Quilts over 425 linear inches will have an additional fee of $0.04 per linear inch and must be invoiced separately.